The latest PhaseWorm announcements!
---
I'm excited to announce that today PhaseWorm comes to speedrun.com with an official game leaderboard! PhaseWorm was built for speedrunning, and so I've also included a livesplit autosplitter for release with the game. Just add this component into livesplit and the game will track your in-game time.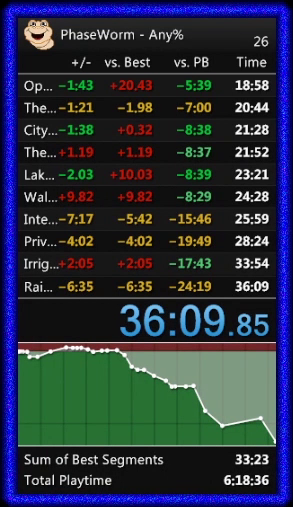 Even if you don't want to use livesplit, you can speedrun phaseworm - the in-game timer will give you your final time and death count when you roll credits!
---
Today is the day! PhaseWorm is officially released on Steam kicking off with the early bird gets the PhaseWorm sale. For one week only there will be 25% off of the baseline price.
Launch day also marks the opening of the Steam community page. Because this is an early access title, I invite everyone to use it to talk about what kind of experience you are all having with the various levels. How many of you are pushing for top times? What levels are you getting stuck on and how many deaths do you have? Do you have any thoughts on additional options or features that you feel would improve the game? PhaseWorm is intended to be a very challenging game, but I want to make sure that the earlier medals feel achievable and that the level progression makes sense.
On a personal note, today marks a major milestone on a journey that began in October of 2019 when I decided to learn Unity. While the game will continue to incrementally improve to the 1.0 state and beyond, it's so exciting to finally get to share my first indie title with the world.
-Elipsis
---
Introducing PhaseWorm! PhaseWorm is a fast-paced 2D timing and reflex game built with a speedrunning focus. Players will be challenged to think and act quickly as they push for faster times and more difficult paths through each of the game's 30 unique thematic stages.
Watch the early access trailer to learn more about PhaseWorm:
PhaseWorm will be available on Steam starting May 4th!